Corestack Update Release – Version 3.1.1
10 February, 2022
Ready for More? New & Improved Tools Available in Corestack
Beedash is always working to optimize and refine our Corestack product information management tools to better meet the needs of our restaurant equipment and supply partners.
Host Multiple Catalogs For Tailored Shopping Experience
Build out unique product catalogs to serve the diversity of your buyer's needs. Develop a secure customer portal from your existing website with fixed pricing for chain accounts and loyal customers to quickly and efficiently place and manage their orders.
Customize catalogs and pricing for specific clients to streamline order management.
Track industry price fluctuations so that you are always selling at the best price for your business and buyer.
Reduce touchpoints and improve customer engagement.
Provide 24-7-365 access to order placement for operators on the move.
What Else is New?
Instant reference of last price update to a vendor on the pricing tool
Faster and Improved Catalog Upload to Webstack site
Product Data Support Page

Report product errors and receive live resolution updates from Beedash staff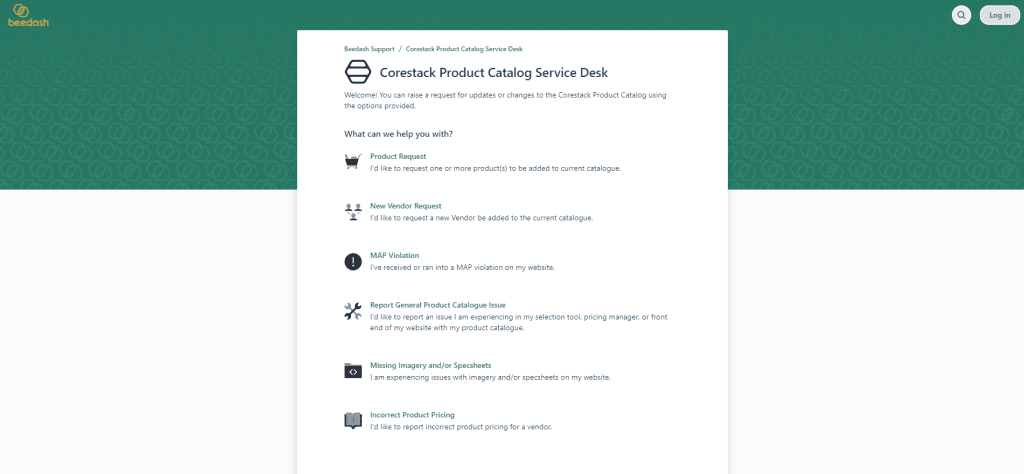 Have a Request for a New Feature?
Feel free to let us know at anytime which features you'd like to see in Corestack Product Information Manager. You can submit a feature request using our Corestack Service Desk's Feature Request form linked below.