GMB 202: Prioritize Profiles
22 October, 2021
GMB is Google's native listing directory found on their search engine and map results. GMB represents one of the easiest ways for businesses to take control of how their business is featured across Google platforms. GMB is a unified dashboard and portal where business owners can claim their business, optimize their information, upload imagery, reply to reviews, create social media posts, and more.
GMB Dashboard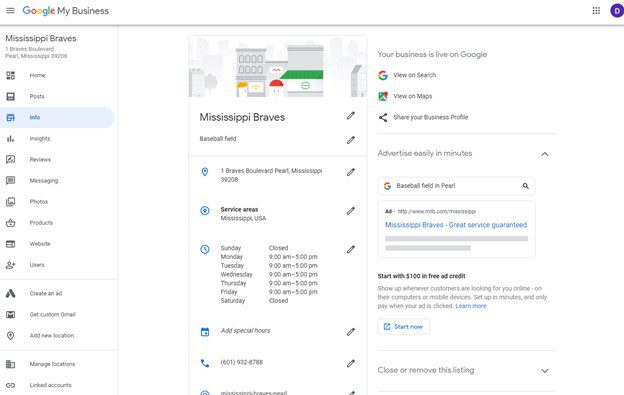 Profile Optimization
Creating and maintaining a GMB profile is completely free to business owners, but the cost is spending time managing the advertised information. The time and tactics used to maintain a GMB profile is referred to as Optimization.
It's important to confirm your profile is up to date at least once a quarter. Search engine users expect instant information on your business and if they cannot locate that information, they will move on to the next. It is critical to anticipate the questions users may have when researching your business or offerings.
GMB Other Attributes
Customer's Require Key Business Information
Users require key company information such as hours of operation and location. Along with store hours, an address, and a means of contact, there are a variety of other important business details you can include in your GMB profile.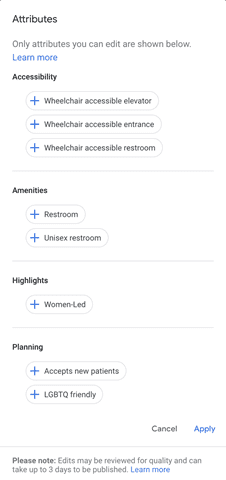 Accessibility
Allows for people with physical limitations to know whether your business is easily accessible to them or not.
Health & Safety
Because of COVID-19 and different business practices, people need clarification on health & safety guidelines and requirements.
Payments
You can specify down to the exact brand of credit/debit cards you accept. There are options for being a cash-only business, for allowing payments by check, or even accepting payments by mobile phones.
Service Options
If you are a business that operates mainly through phone calls and online orders, you may want to specify on your GMB profile that there is no in-store pickup. But if you want people to come to your location, make sure to specify that you allow for in-store shopping!
Why is all this so Important?
It may be tedious to go category by category, but Google's search engine is used 65% of the time by people looking for answers to questions or who want to purchase products (like restaurant equipment and supplies!)
By properly utilizing all the features offered by GMB, your business can maximize the effectiveness of your presence on Google's Search Engine Results Page (SERP). Comparatively, search engine users are going to be more likely to trust an optimized GMB profile as lends legitimacy to your online business presence.
Have a Request for a New Feature?
Feel free to let us know at anytime which features you'd like to see in Corestack Product Information Manager. You can submit a feature request using our Corestack Service Desk's Feature Request form linked below.