SaaS Versus iPaaS—What You Need to Know
16 May, 2022
No matter what kind of business you manage, its success depends on digital tools. While your grandfather did not need a computer and peripheral technology tools to run his business, in today's world, they are crucial. The digital-solution landscape seems to evolve so fast that as soon as you've adopted groundbreaking technology, that proverbial wheel is re-invented, or new digital tools emerge. Sometimes, though, this isn't necessarily a bad thing.
As a foodservice equipment supply company mover and shaker—you probably wouldn't be reading this if you weren't one—you're undoubtedly familiar with SaaS. If not, trust us, one of your underlings is, and your company is using it.
And SaaS has probably proved indispensable for helping manage at least some elements of your business operations, whether sales, marketing, inventory, payroll, inter-office communications, or some other function. But you should know that there is a new (emergent) sheriff in town who will make whatever SaaS your company uses more efficient.
Say hello to iPaaS!
Do You Need a Refresher Course on SaaS?
But before turning to iPaaS, we should probably clarify exactly what SaaS is and what it might be doing to help your business operations.
SaaS stands for "software as a service" and is essentially cloud-based software you use on a subscription basis to help manage any number of your business's essential operations. For example, we help our FES clients manage their online catalogs with Corestack, an intuitive SaaS tool that makes downloading, organizing, and advertising catalog items a breeze. We also use the SaaS applications Webstack, to help our (FES) clients develop and curate their websites and Sharestack, to help them manage their digital marketing and social media engagement initiatives.
In short, every industry can find SaaS applications to help them manage just about any aspect of their business operations. Whether payroll, customer support, internal communications, digital marketing, logistics, sales, inventory, project management, or other crucial operation, you can find a SaaS tool that helps you efficiently manage it.
OK, So What Does this New iPaaS Sheriff Do?
iPaaS is the acronym for "integration platform as a service," with "integration" serving as the keyword in the abbreviation. While iPaaS is essentially SaaS, its job is to integrate disparate applications (including those based on SaaS) in a coordinated fashion to allow them to work efficiently with each other.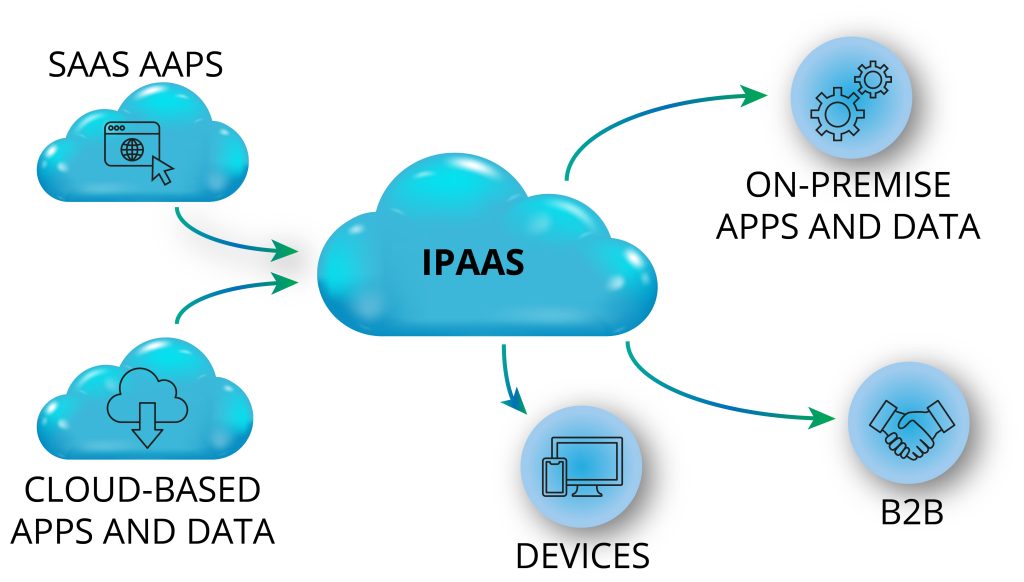 The need for such integration emerged in the late 2000s with the surge in cloud computing overwhelming the ability of SaaS apps to connect via cloud-based data. The first iPaaS was launched by Boomi in 2008, and today there are dozens of iPaaS vendors that help businesses resolve their integration challenges. Despite this, almost 90% of the nation's companies are reportedly experiencing a data integration backlog, whether integration efforts are handled in-house or through third-party vendors.
Going forward, iPaaS is expected to rapidly evolve and scale to address this backlog and will likely become an essential component of most business organizations' data integration efforts.
Consult with Beedash to Keep on Top of Ever-Changing Technology
Our foodservice equipment supply industry partners rely on Beedash to help them keep abreast of the fast-changing tech landscape. With over 10 years of developing websites and delivering digital marketing solutions for the FES industry, Beedash always focuses on providing our dealer clients with the latest and most advanced software solutions and services.
Have a Request for a New Feature?
Feel free to let us know at anytime which features you'd like to see in Corestack Product Information Manager. You can submit a feature request using our Corestack Service Desk's Feature Request form linked below.