What is Product Information Management (PIM)?
04 August, 2022
Product Information Management (PIM) is a software term referring to a central data repository system used to standardize and distribute key product information to other platforms.
IBM defines PIM as, "The process of managing information about a collection of products with one centralizing system, including all data that is required to market and sell the products through multiple distribution channels."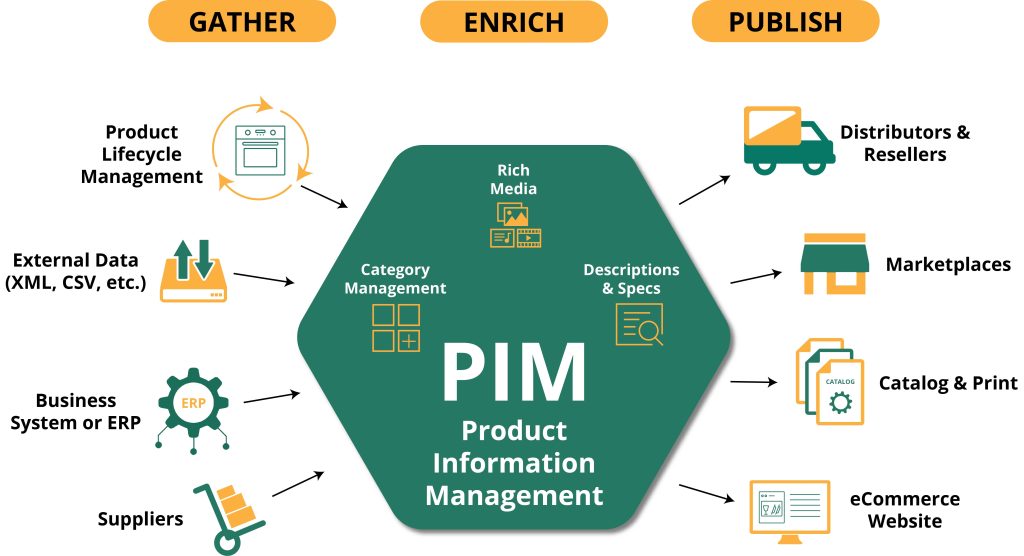 Businesses that manage complex catalogs, with dozens of manufacturers and brands, may already use a form of PIM without knowing.
Here are some the basic functions of a PIM:
Asset Aggregation
PIM systems store details such as product name, model, descriptions, price, weight, etc., and relevant materials like images, spec sheets, videos and design files.
Data Consistency
The key value gained using a PIM is the versatility of the data's application for a variety of business objectives. Any updates and changes to a PIM catalog are completed in one spot and then delivered to the synchronized platforms. Sellers that store product information in central and standard format can confidently reference any published product information which all originates from the same PIM.
How Can Your Business Utilize a PIM?
Rich product information and organization can set a foundation for efficiency in any any aspect of an operation. From inventory, project management and fulfillment to sales and marketing efforts, PIM offers businesses a means to organize, optimize and list their brands with confidence.
So Where to Begin With PIM?
Corestack is a PIM provider tool built specifically for Foodservice equipment & supply distributors. As a PIM provider, Corestack allows dealers to login and access a data repository of 300,000+ products optimized for online listing and selling. With Corestack's intelligent product selection and pricing tools, the possibilities for a Corestack product catalog are abundant.
Corestack is eCommerce-optimized, product information management for restaurant equipment dealers. Streamline vendor communications and quickly generate a product catalog, ready for use on an eCommerce platform.
Skip the price sheets – Enter your trade discounts and pricing factors so that when a brand you work with has a price change, your products are automatically recalculated at the new competitive price structure.
Manufacturer updates made simple – When your manufacturers release updates to products, expect Corestack to generate an updated catalog and alert you that your optimized product data is ready.
Corestack product catalogs provide online optimization from both a technical and user perspective.
Get Found – by your target audience with a meta-rich, robust product catalog designed for local lead generation and search engine ranking benefits. If listing products online fits your business model over eCommerce sales, then seize the opportunity with rich product data.
Distributors managing product databases for efficiency platforms like ERP's, price books, eCommerce stores, points of sale or other tools know the reality that is organizing and updating product information. If available solutions that exist don't fit your business's goals and you've exhausted the spreadsheets, Corestack can be your source for efficient product data.
Tailor a product catalog and receive updated information when manufacturers change their product pricing and other relevant information. From your in-store POS to ERP platforms and mobile price lists, Corestack's product information is just an export away.
Have a Request for a New Feature?
Feel free to let us know at anytime which features you'd like to see in Corestack Product Information Manager. You can submit a feature request using our Corestack Service Desk's Feature Request form linked below.