What You Need to Know About Collecting Payments Online
14 June, 2022
Don't Let Misconceptions Stop You from Selling Online
To remain competitive in today's highly competitive business climate, foodservice equipment supply companies must adopt digital marketing tools. With the dramatic growth in online sales in recent years, FES companies must also offer their wares via eCommerce or risk losing sales to their eCommerce-capable competitors. However, some FES managers are hesitant about adopting eCommerce capabilities due to concerns about the risks of online payment processing. Such concerns are not unfounded, but today's online payment processing is safer than ever and making online payments for goods and services is now a standard business practice.
Is Collecting Payments Online Secure?
Despite concerns about fraud and identity theft, online payment processing is safe when conducted by a bank or a company like PayPal that provides online banking services. Online payment processing services rely on encryption, multistep identity verification, and password protection protocols to ensure the security of financial data transfers. Online payment processing firms also verify the purchaser's credit card or banking information and confirm whether the purchaser has sufficient funds or credit for each purchase. Last, the payment processor ensures the seamless transfer of funds, leaving you only responsible for shipping the product(s) ordered.
The Importance of Understanding Your Market Audience
Many of today's customers—whether shopping for widgets or restaurant equipment—expect a smooth-flowing sales and transaction process. Thus, if you're marketing your foodservice equipment online, a potential customer likely expects to make an easy purchase once they've confirmed that you sell any products they seek at a reasonable price. Many customers will take their online business elsewhere once they realize they cannot click on a "purchase now" button to complete the transaction. An eCommerce website that directs a purchaser to phone in their order or send in a check will ultimately lose many customers that would otherwise complete the purchase if available with the click of a mouse.
Payment Processor Versus Payment Gateway
In general, online payments involve six entities:
You, the merchant
Your FES customer
The customer's bank
Your bank
The payment processor
The Payment Gateway.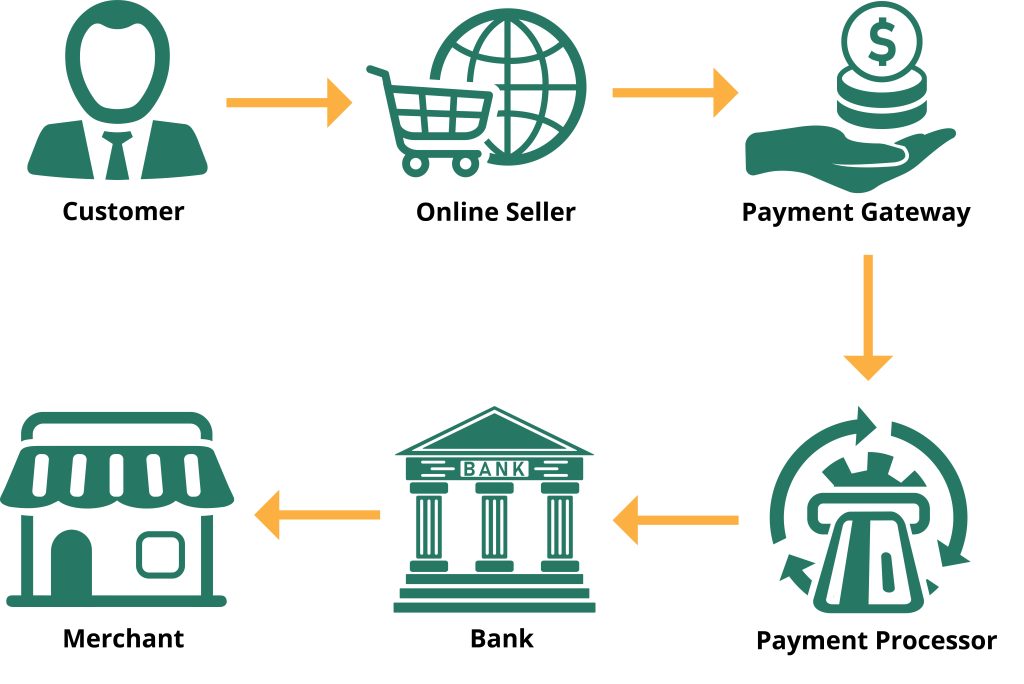 The first four entities are self-explanatory, but many people do not understand the role payment processors and payment gateways play in online transactions. Simply put, the payment processor executes the online transaction by transferring payment between the two banks. The payment gateway authorizes and securely transmits the online payment data that the payment processor uses to complete the transaction.
The distinctions are subtle, but you can think of it as the gateway being the brains of the transaction and the processor as the engine. Both are certainly needed to ensure the smooth and safe handling of online sales, but to ensure your eCommerce success seek out the services of the highest quality gateway possible. Factors to consider when choosing a payment gateway include:
Strength of encryption and other security features
Ability to handle different payment types (including international transactions)
Integration of transactions with accounting or customer relations software
Tax cost calculation features
Established reputation
Fees (and what features you receive for them)
Ready to Start Selling Online?—Consult with Beedash!
If you're ready to expand your foodservice equipment supply company into the realm of eCommerce, Beedash can help with its line of stackable services. Your new Webstack-engineered website will give your company a powerful online presence that we can enhance with the robust digital and social media marketing capabilities provided by Sharestack. Once we've set you up with your unique, easy-to-navigate and manage online catalogue powered by Corestack, we can help you set it up with online payment options and get you generating online sales in no time.
With more than 10 years of developing websites and delivering digital marketing solutions for the FES industry, Beedash is committed to providing our dealer clients with the latest and most advanced software solutions and services.
Have a Request for a New Feature?
Feel free to let us know at anytime which features you'd like to see in Corestack Product Information Manager. You can submit a feature request using our Corestack Service Desk's Feature Request form linked below.